NC Foundations for Early Learning and Development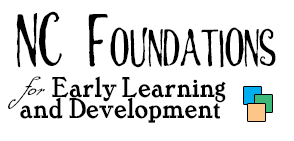 This course is a 5-hour introduction to Foundations, North Carolina's Early Learning and Development expectations, how they are structured, and how to implement them in early childhood settings for children birth-5. Participants will build the knowledge base necessary to support and nurture young children in their development by embedding Foundations into the daily classroom routine. Light lunch is provided. Participants earn 0.5 CEU.
Additional training sessions that support the six learning domains are offered through the year. The six domains are: Approaches to Learning, Emotional and Social Development, Health and Physical Development, Language Development and Communication, Cognitive Development, and Supporting Dual Language Learners.
This training is for early educators of children birth-5 who work in licensed centers and homes in Randolph County. Registration is required.
Sessions are listed on the calendar. Online registration must be completed at least three (3) days prior to the scheduled training. Cancellations must be received by 10 a.m. the day of the training. Select & Register For Trainings & Workshops