Dena Harwood, a lead teacher at Connie Redding Head Start in Asheboro, isn't welcoming preschoolers into her classroom with hugs and smiles these days. COVID-19 took that away from her this spring. Dena, however, is an early childhood hero. Despite not being able to directly care, nurture, and teach her class, she continues to work hard for her little ones.
While Dena's role of teacher has temporarily changed, her role of student forges onward. She is a currently working on her Master's Degree in Early Childhood Leadership and Program Administration. And her schoolwork resulted in a beautiful, welcoming place for fairies—and children, of course—at Connie Redding Head Start.
Dena built a fairy garden outside her classroom.

She created it because, "incorporating an outdoor education, green education, or a school garden can have positive results on learning outcomes of children."
Dena chose this project so she could design a space for children to explore in an environment that encourages the use of imagination.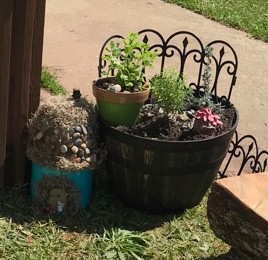 "I wanted them to feel a part of the space, be able to manipulate objects within the space, and have real life experiences with nature," Dena said.
She specifically selected plants that engage the senses. For smell and taste, she chose mint and pineapple sage. She added colorful flowers that catch the eye. She'd like to add lamb's ear for touch, as well. Since she doesn't yet have the lamb's ear, she incorporated other natural elements such as pebbles and stones. When young children interact with the garden, they can pause and listen to sounds they hear in this special outdoor learning environment.
"We also added fairies, a mailbox for literacy, rain gauges for math, and humming bird feeders for science exploration," Dena said.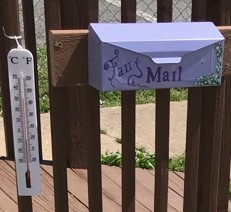 When the children do return to the center, there will be a lush, blooming fairy garden to welcome them back. And they'll also have a dedicated teacher who is ready to facilitate engaging, nurturing adventures that spark imaginations, build language, and inspire learning.