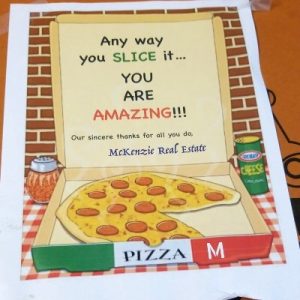 McKenzie Real Estate keeps its team members sharp, accountable, and close through what they call Team Building Tuesday. Each week, they focus on one of three themes: Education, Community Service, or Team Building.
"Education keeps us sharp, Community Service keeps us accountable, and Team Building keeps us close," said Jenna McKenzie. "I would consider Team Building Tuesday one of the cornerstones of McKenzie Real Estate."
Since the Covid-19 pandemic, the real estate world has changed right along with everything else. McKenzie Real Estate's downtown Asheboro office, like most businesses, isn't the same. Work continues, but has become virtual and electronic. Even though they have to practice social distancing, Jenna said they were determined to continue Team Building Tuesday, especially service to the local community.
During the first week, they came up with "Coffee for Caregivers." McKenzie Real Estate partnered with The American Bean coffee truck and set up outside the hospital. Hospital workers were offered free coffee and sweets.
The second week, they took boxes of cookies from Central Bakery and handmade cards to first responders.
Then came week three.
"We felt like the child care workers were essential workers that were almost being forgotten about. Without the child care workers, the nurses, doctors, EMTs, fire fighters, and others couldn't go to work—which means we would all be in danger," explained Jenna. "Child care workers are risking their own health and safety to care for our local children. It was important to recognize them."
So on Tuesday, April 14, Jenna and the team at McKenzie Real Estate took advantage of Little Caesars' $5 pizza deal and delivered pizza to 12 area child care centers.
They posted photos of their pizza deliveries with this message on Facebook: "Our #teambuildingtuesday has looked different the last several weeks. We remain thankful for the opportunity to think outside the box and be able to continue to love on our local community through various ways. Today we had the pleasure of loving on childcare workers. I know these angels are a true blessing to so many of us!! Thanks for being our hometown heroes!"
Photos from some of centers that were visited:
Little Caesars Pizzas for Lunch
Trogdon's Day Care/Youth Care
First Steps Early Learning Center
Teddy Bear Child Care Center
Creative Kids Preschool
Randleman Enrichment Center
Comments on the McKenzie Real Estate post included:
From Teddy Bear Child Care Center: "On behalf of the staff at Teddy Bear Child Care Center, thank you so much. This was completely unexpected and very much appreciated."
From Precious Memories Preschool: "The staff at Precious Memories Preschool and School Age Program are so thankful for the kind gesture from McKenzie Real Estate!! We loved the pizza too!!"
Other centers posted directly on their own Facebook pages:
Harmony Place posted: "Thank you McKenzie Real Estate for your kindness this week! Our teachers enjoyed the pizza!"
The Growing Place Child Care Center posted: "Thanks to McKenzie Real Estate for lunch today! What a great community we have! Your thoughtfulness meant a lot to all of our teachers!" McKenzie Real Estate commented on the post, "We are so thankful for you. Without you, the doctors and nurses couldn't take care of the sick people!"
Trogdon's Day Care/Youth Care posted: A BIG THANK YOU, to McKenzie Real Estate for bringing us lunch for our staff here at Trogdon's Daycare. Love seeing how our community sticks together in this time, when we need all the positive energy there is. Thank you for taking time out of your schedule to provide lunch for the child care centers."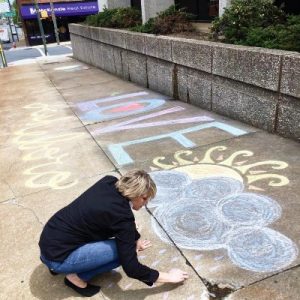 The McKenzie Real Estate Team followed the pizza with sidewalk chalk on Tuesday, April 21. They took to Asheboro's downtown sidewalks and painted the town with inspirational chalk art.
We are sincerely grateful to Jenna McKenzie and the McKenzie Real Estate Team for all you do for Asheboro and Randolph County. We look forward to the great things you'll do in the weeks to come. You are the embodiment of #InthisTogether. You are an inspiration.