On Thursday, May 14, Early Childhood Specialist Kristy Umfleet appeared on the Mommy Matters segment of WGHP Fox 8's morning news show to talk about supporting young children's mental health during the pandemic.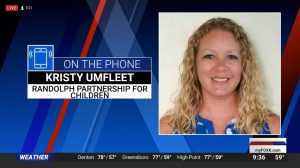 Kristy began by explaining a lot of people don't put the words 'early childhood' and 'mental health' together. However, it is important to understand how experiences affect young children and their mental health. Here's what else she had to say:
One thing we know about young children is that relationships and experiences, good or bad, help shape the architecture of the brain. Young children respond to and express emotional experiences and traumatic events in ways that are different from adults, and even older children.
Children can experience a range of stress from positive stress to tolerable stress to toxic stress. Toxic stress is defined as ongoing or prolonged adversity without the support of a caring adult. Toxic stress can damage the brain architecture and increase the likelihood that mental health problems will have a long-term impact.
So right now while children are at home there are some steps you can take to protect your child's stress levels.
First, simply be a caring, loving adult. This may seem like common sense but it is the biggest distinction between tolerable and toxic stress. Adult support is the best buffer for childhood stress.
Also, have honest open dialogue with your child about what is going on with Covid-19. When doing this make sure you are using developmentally appropriate language for the age of your child. For a very young child you could say something like "A lot of people are sick right now. We are going to stay home so that we are safe and can take care of each other." Expect questions, but only share what you think your child is capable of understanding.
Validate and label their emotions—and yours! Young children cannot articulate what they are feeling or why. They learn how to do this by adults teaching emotional vocabulary. Check in with your child (How are you feeling today?) and share your own emotions with them (I'm feeling a little sad today. I miss my friends.). Remember that just like adults, it is ok for children to be angry, sad, or just to have a bad day.
Be aware of your own mental health. Children will respond to these changes in their lives the way they see adults respond. Talk about what is happening, but try to balance those negative conversations with lots of love and laughter. Talk about your blessings and things that make you happy.
Lastly, read books with your child every day. Early literacy has numerous benefits and, especially right now, books are good for the soul. They can take us out of reality and into worlds of joy and wonder. They also create those one on one opportunities to snuggle up and show your love for one another. That's what we all need right now.