When:
November 6, 2021 @ 9:00 am – 11:00 am
2021-11-06T09:00:00-04:00
2021-11-06T11:00:00-04:00
Contact:
Andee Edelson
336-629-2128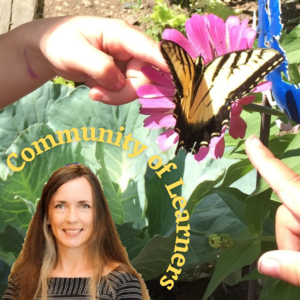 In this symposium, we will explore how to prepare learning environments with rich, interesting materials and tools that entice children to try a variety of techniques, skills, methods, and processes. While we will take a brief look at broad possibilities that invite and propel inquiry, we will focus on two: overhead projectors and point-and-shoot digital cameras (as well as the props that go with them, like translucent gems and things that make shadows).
When we invite nature to be our partner in learning and wellness, we ultimately invite ourselves and each other into healing partnership. The outer landscapes of our environments and the inner landscapes of our beings can speak to each other in powerful ways. Our job is to open that communication. Children are full participants in this.    
Goals:
Observe the possibilities that surround us in natural environments every day.
Notice how children engage and express connections with nature. Appreciate how we adults do, too.
Explore how we adults can be inspired by children's nature-based knowing, as well as facilitate deeper inquiry and connection within our learning environments.
Presenter: Jodi Wert
Credit Hours: 2