When:
June 29, 2020 @ 2:00 pm – 3:30 pm
2020-06-29T14:00:00-04:00
2020-06-29T15:30:00-04:00
Contact:
McCormick Center for Early Childhood Leadership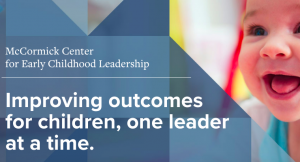 Geania is a consultant at Arkansas State Childhood Services; the principal of dot2dot consulting, LLC; and a member of the McCormick Center's Advisory Board. Geania has over 27 years of experience in the ECE field and her recent endeavors include facilitation of the Arkansas State Board of Education's Family and Community Engagement Taskforce and work highlighting the tribulations of the ECE workforce. These days, her favorite quote is, "In the rush to return to normal, use this time to consider which parts of normal are worth rushing back to." During this webinar, participants will reflect on strategies that will help guide them through these chaotic times, both personally and professionally. For more information and to register, CLICK HERE.