When:
February 25, 2021 @ 6:30 pm – 7:30 pm
2021-02-25T18:30:00-05:00
2021-02-25T19:30:00-05:00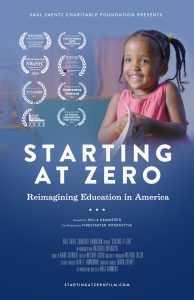 STARTING AT ZERO explores the power of investing in high-quality early childhood education so that all children and families have the opportunity to attain the American Dream. It's time to acknowledge the critical role of high-quality early learning for our nation and ensure a brighter, more equitable tomorrow for all children and families. 2020 has made it clear: Everyone has a stake in high-quality early education and childcare. It's never been harder for a family to survive on one income. If parents have to work to keep the family out of poverty, who is engaging, nurturing and teaching their young children when they're at work?
Join us for this screening and discussion designed for early educators and faith leaders. The documentary is 42 minutes and we will have a brief, informal discussion following the screening. The event is planned for one hour.