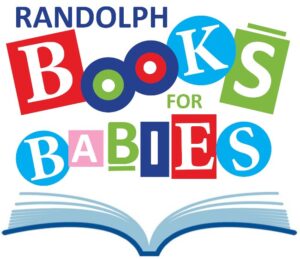 Books for Babies launched in 2017 by Randolph County Public Libraries Friends of the Library. Spearheaded by then Chairwoman Dr. Frances Jones, the project was a collaborative effort of Randolph County Public Libraries, Randolph County Public Health, Randolph Health, and Randolph Partnership for Children. Since its inception, the program has delivered a canvas tote filled with early literacy items, parent support tools, board books, and a blanket to each family upon the arrival of their newborn at Randolph Health. In August 2021, administration of the Books for Babies project was seamlessly transitioned from the Friends of the Library to Randolph Partnership for Children.
The bags promote early literacy by ensuring each newborn in Randolph County receives their first library card, two board books, The Basics Randolph bookmark, information for parents to enroll baby in Dolly Parton's Imagination Library, and information about Reach Out and Read in Randolph County. Blankets to snuggle with baby while reading are also included. Each blanket is a uniquely special gift, handmade by a local volunteer.
Bags are distributed as a FREE gift to parents of newborns.
Bags are provided to families of babies born at Randolph Health in Asheboro, NC.