Finding the best child care for your family's needs can seem like an overwhelming task. Considering 85% of brain development occurs in the first five years of your child's life, it's also one of the most important decisions you'll make for your child.
There are dozens of child care centers and homes in Randolph County. The Child Care Resource and Referral Region 11 office can provide help with your search. Families can contact them at 1-800-289-5058 or GuilfordChildDev.org.
The NC Division of Child Development and Early Education provides a searchable database for families who are looking for childcare options.
Search Licensed Care
For preschoolers, NC Pre-K, Head Start and church preschools that offer half-day programs and/or choices among two, three, or five days per week are also options in Randolph County.
The NC Division of Child Development and Early Education evaluates child care centers and homes using a star-rating system. Licensed centers and homes can earn between 1 star (meets minimum standard requirements) and 5 stars (meets the highest voluntary enhanced quality standards for staff education and program standards). Faith-based centers can opt to operate under GS-110 regulation, which meets minimum standard requirements, but is not star-rated. The provider's license, which must be prominently displayed for parents to see, indicates the number of stars earned.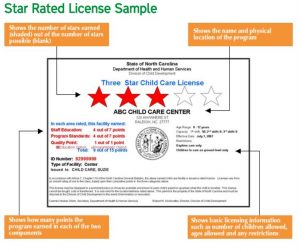 Other indicators of quality include:
Child-directed curriculum
Predictable daily schedule
Individualized care
Age- and developmentally-appropriate expectations
Your instincts – what you think and feel about a provider is important. If you don't think it's a good fit, find another provider
Evaluating Potential Providers
Once you've narrowed your choices based on things like quality, location, programs, hours, capacity, and price, be sure to schedule visits so you can tour each program and talk with the director and teachers. The NC Division of Child Development and Early Education created checklists for parents to use while visiting providers. It includes both things to look for and questions to ask.
Child Care Center Checklist
Child Care Home Checklist
And remember, we are here to help. Feel free to contact us for more information on how the star-rating system works, what to look for when you visit and interview providers, or other concerns along your journey to find the best early care for your child.