The Classroom Assessment Scoring System (CLASS)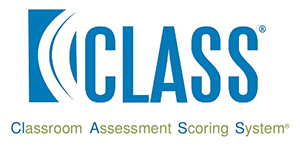 The Classroom Assessment Scoring System (CLASS) is a framework that was developed and researched to capture the aspects of effective interactions that are aligned with children's social, emotional, and academic outcomes. CLASS is used in classrooms to measure and improve teacher-child interactions— the single most important influence on children's learning and development.
The CLASS observation tool consists of domains and dimensions by age group:
Pre-K: Emotional Support, Classroom Organization, and Instructional Support
Toddler: Emotional and Behavior Support and Engaged Support for Learning
Infant: Responsive Caregiving
These interactive sessions focus on specific aspects of these domains while analyzing and discussing interactions from sample videos. The CLASS trainings support the Interaction component of the Environment Rating Scale and Foundations. Participants earn 2.5 credit hours for each session.
This training is for early educators of children birth-5 who work in licensed centers and homes in Randolph County. Registration is required.
Sessions are listed on the calendar. Online registration must be completed at least three (3) days prior to the scheduled training. Cancellations must be received by 10 a.m. the day of the training. Select & Register For Trainings & Workshops