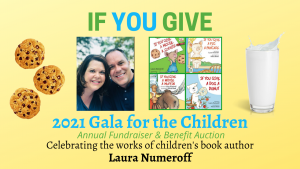 The 2021 Gala for the Children fundraiser and benefit auction, IF YOU GIVE, will be held Saturday, August 21 at 7 p.m. Leading up the live stream event, we will launch our online auction on Friday, August 13. This year's event will again be virtual, with in-person VIP guests (if permitted under Public Health guidance for that date). During the event, there will be a Fund-A-Need auction, live auction, and the 2021 Volunteer of the Year will be revealed. In-person VIP guests will enjoy a catered dinner and private silent auction, as well.
The Gala for the Children is the Partnership's premiere fundraising and benefit auction event. Each year, community members, business owners and leaders, and elected officials gather to support our programs and initiatives at this gala event.
The theme is a well-known children's book, series or author, emphasizing our focus on family literacy and the importance of reading to infants, toddlers and preschoolers.
Funds raised through sponsorships, auctions, and related activities are used to sustain and expand critical programs for young children in Randolph County, preparing them to enter kindergarten healthy and ready to succeed in school and life.
Our programs support and enhance early literacy, health, active lifestyles, and early learning through play and exploration for children birth-5; support parents as their child's first and most important teacher; and support early educators in providing high quality care and attaining educational goals in the profession. 
Each year, our Auction Committee puts together the most elegant and eclectic collection of items for our auctions.
Donations for the online, live, and, and silent auctions come from dozens of generous contributors. Local pottery, area restaurants, local and regional adventures, home décor, jewelry, sports, children's items, and more are included in the offerings.
If you'd like to contribute items to our auctions, we have an Online Donation Page as well as a Donation Form. We are happy to make arrangements to pick up items, or they can be dropped off or mailed to Randolph Partnership for Children, ATTN: Gala Auction, 349 Sunset Ave., Asheboro, NC 27203
Our Fund-A-Need community campaigns leading up to the Gala for the Children support our early literacy programs, including Dolly Parton's Imagination Library and Reach Out and Read. 
Our Gala for the Children event includes a Fund-A-Need auction that showcases work and successes over the past year. The auction supports prioritized early childhood programs and initiatives based on where Randolph Partnership for Children's scope of work and strategic plans intersect with gaps in funding.